Samsung NVMe 980 Pro 7000 MB
Rs.21,000.00
Regular price
Rs.21,500.00
Samsung NVMe 980 Pro 7000 MB
Unleash the power of the Samsung 980 PRO PCIe 4.0 NVMe SSD for next-level computing. 980 PRO delivers 2x the data transfer rate of PCIe 3.0, while maintaining compatibility with PCI® 3.0.The NVM Express design mark is a registered trademark of NVM Express, Inc. Results are based on a comparison with Samsung PCIe NVMe SSDs and SATA SSDs. Performance may vary depending on the SSD's firmware version and the system hardware & system configuration. Performance measurements are based on IOmeter 1.1.0. The write performances were measured with Intelligent TurboWrite technology being activated.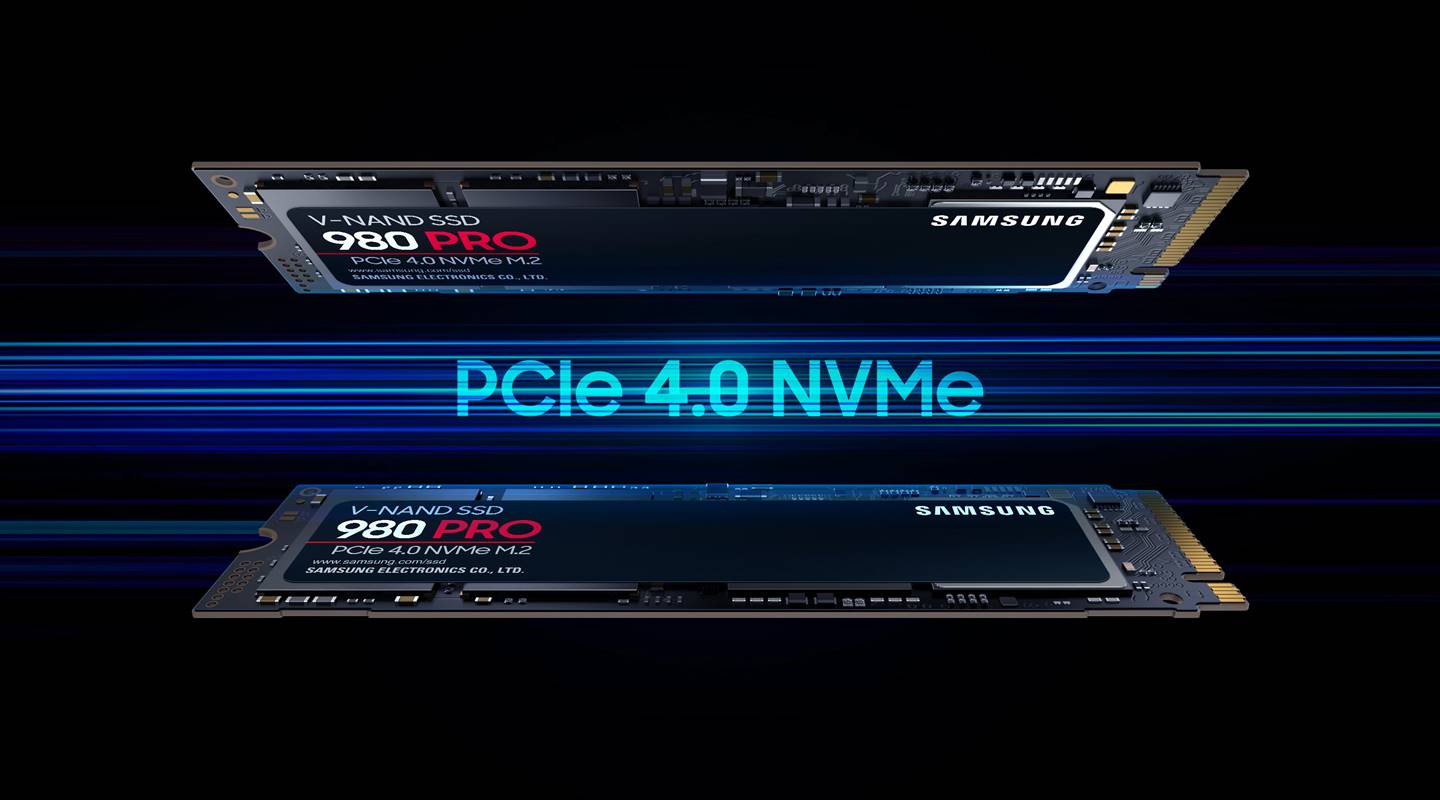 Next-level SSD performance
Unleash the power of the Samsung 980 PRO PCIe® 4.0 NVMe™ SSD for next-level computing. 980 PRO delivers 2x the data transfer rate of PCIe® 3.0, while maintaining compatibility with PCIe® 3.0.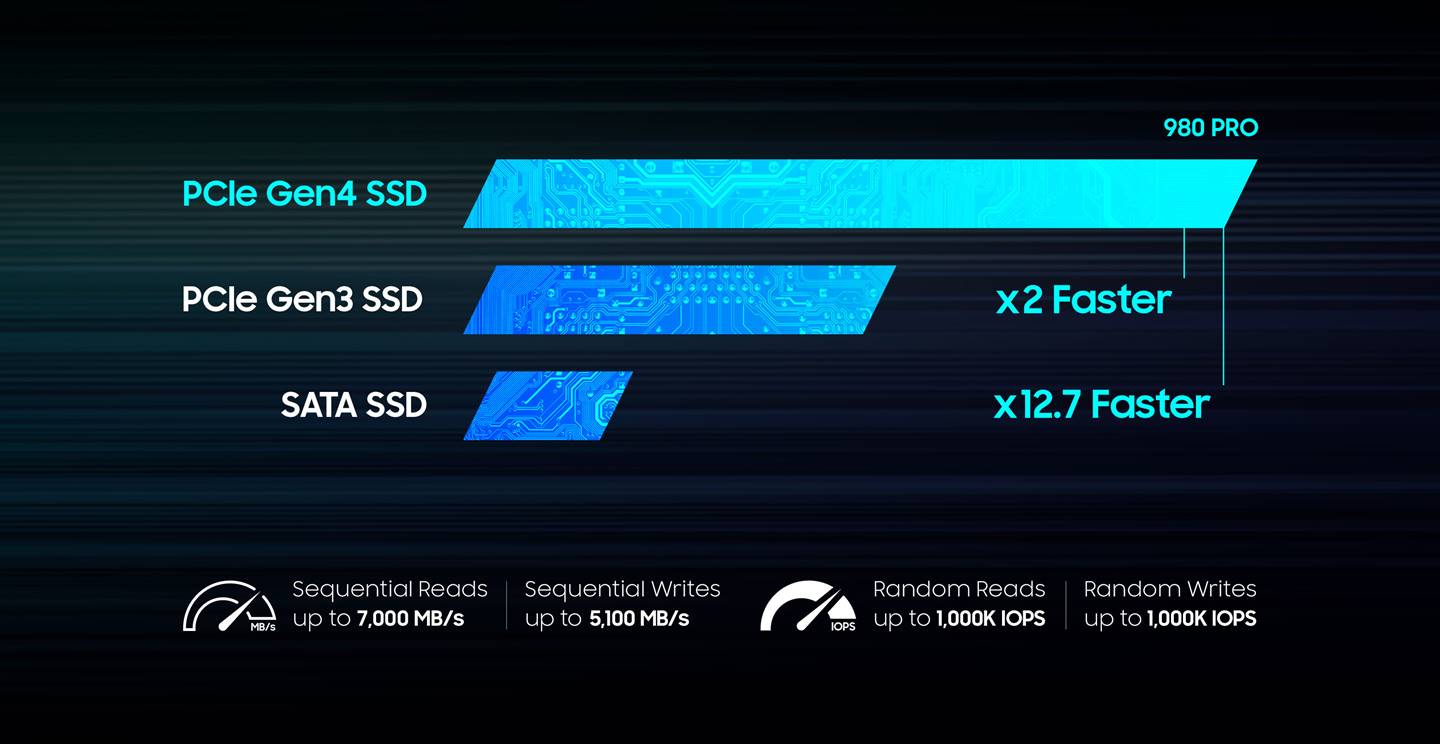 Maximum Speed
Get read speeds up to 7,000 MB/s¹ with 980 PRO and push the limits of what SSDs can do. Powered by a new Elpsis controller designed to harmonize the flash memory components and the interface for superior speed – with a PCIe® 4.0² interface that's 2x faster than PCIe® 3.0 SSDs³ and 12x faster than Samsung SATA SSDs⁴ – every component of this NVMe™ SSD is manufactured by Samsung for performance that lasts.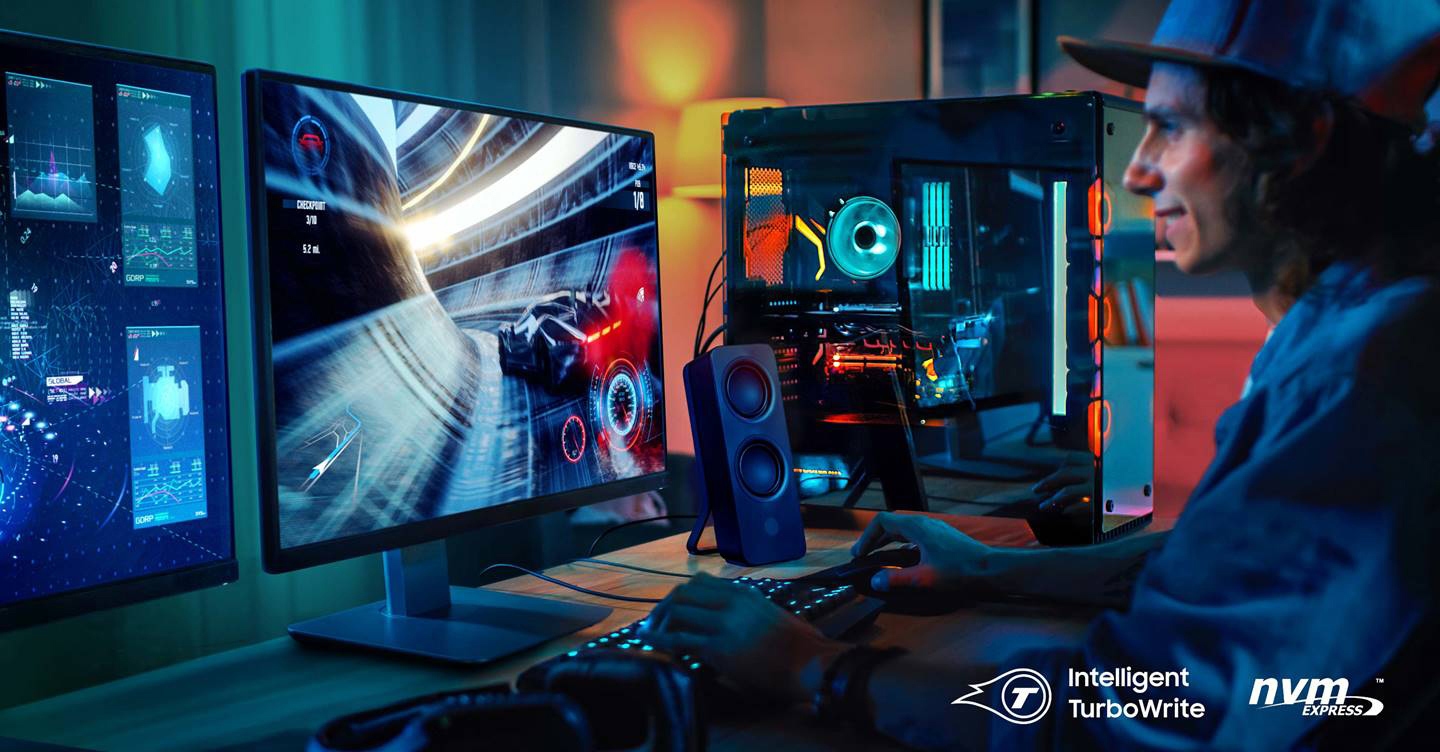 A winning combination
Designed for hardcore gamers and tech-savvy users, the 980 PRO offers high-performance bandwidth and throughput for heavy-duty applications in gaming, graphics, data analytics, and more. It's fast at loading games, so you can play more and wait less.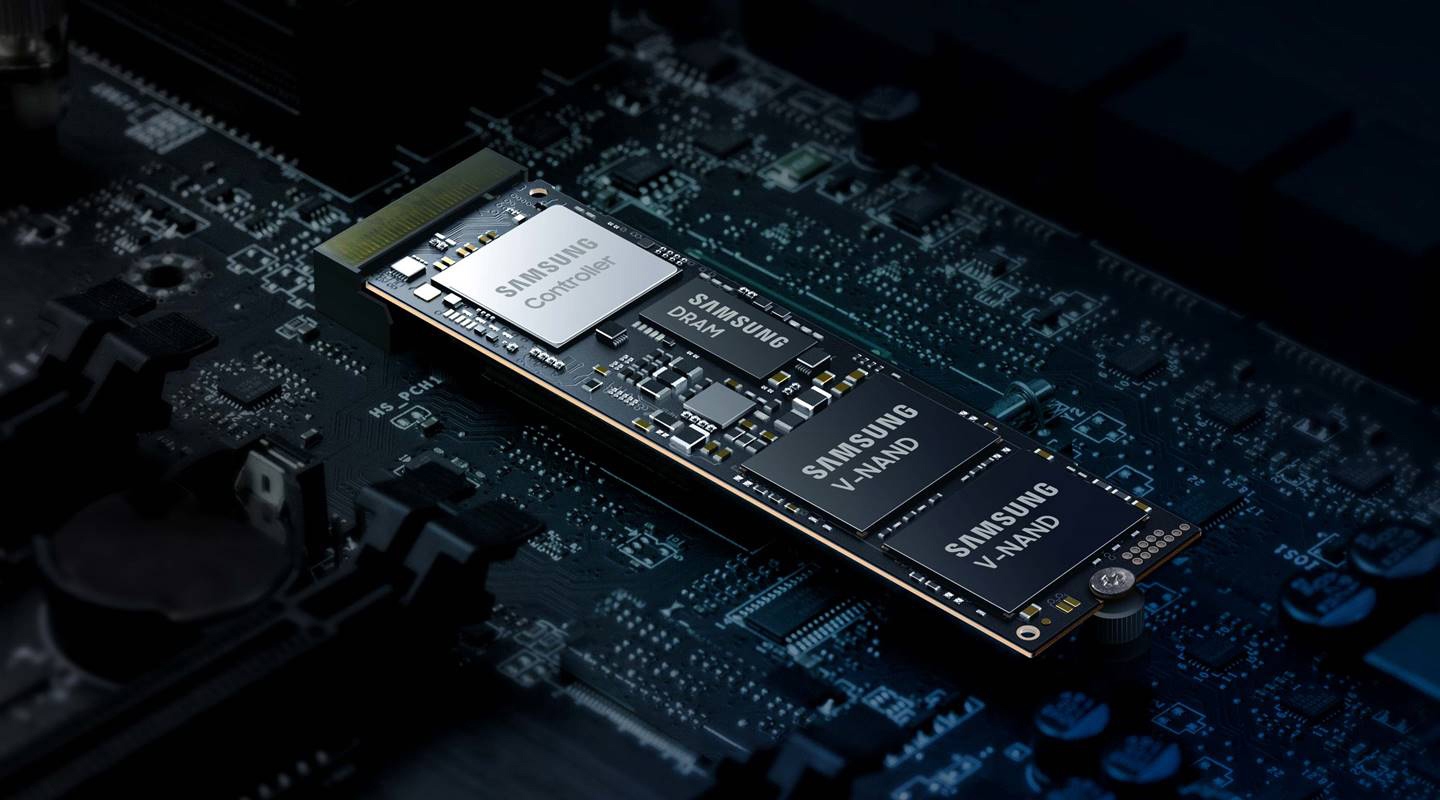 Efficient M.2 SSD
The 980 PRO comes in a compact M.2 2280 form factor, which can be easily plugged into desktops and laptops. Due to its size and thus optimized power efficiency, it's ideal for building high-performance computing systems.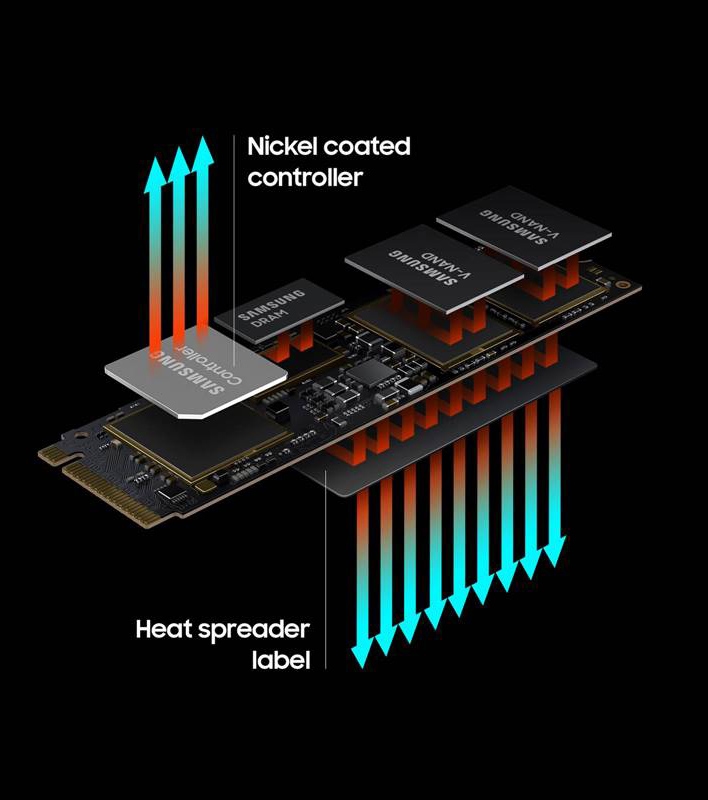 Reliable thermal control
High-performance SSDs usually require high-performance thermal control. To ensure stable performance, the 980 PRO uses nickel coating to help manage the controller's heat level and a heat spreader label to deliver effective thermal control of the NAND chip.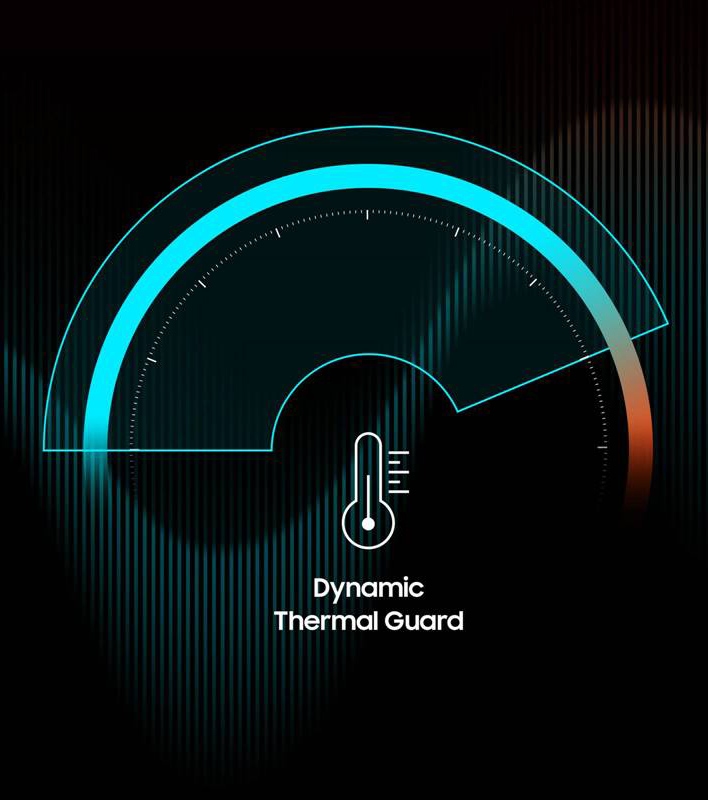 Thermal Solution
Embedded with Samsung's cutting-edge thermal control algorithm, 980 PRO manages heat on its own to deliver durable and reliable performance, while minimizing performance fluctuations during extended usage.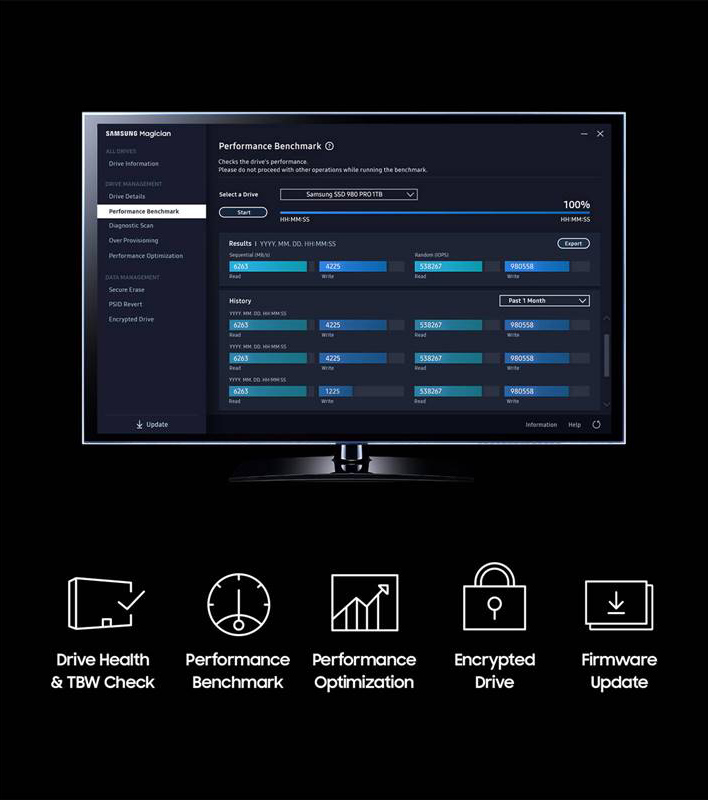 Samsung Magician software
Unlock the full potential of 980 PRO with Samsung Magician's advanced, yet intuitive optimization tools. Monitor drive health, optimize performance, protect valuable data, and receive important updates with Magician to ensure you're always getting the best performance out of your SSD.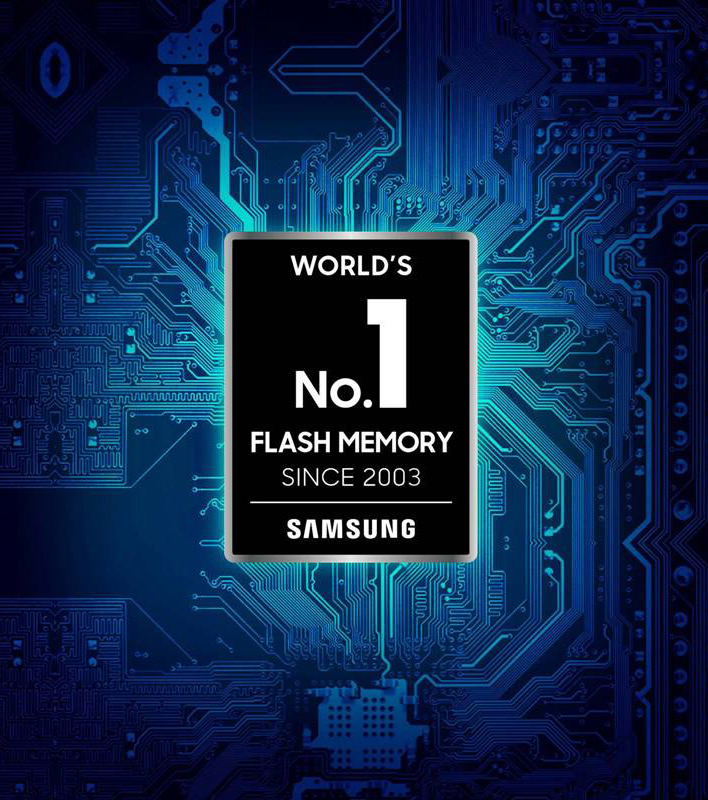 World's No.1 Flash Memory Brand
Experience the performance and reliability that you can only get from the world's number one brand for flash memory since 2003. All firmware and components, including Samsung's world-renowned DRAM and NAND, are produced in-house, allowing end-to-end integration for quality you can trust.
GENUINE PRODUCT GUARANTEED
We assure you that all our products are 100% Authentic, Original & Brand New .We do not sell Fakes, Replicas or Refurbished products in any circumstance. We believe in "Better not to sell other than Originals."
We can share picture of the product too for your satisfaction, feel free to contact us at 0307 1119197 or email us at info@alhamdtech.pk
 7 DAYS RETURN POLICY
In case the product delivered to you has some defect or issue then you can return it within 7 days and we will happily accept it but it should be
The parcel contains its original product packaging, manufacturer's containers, documentation, warranty cards, manuals, and all accessories that came in or attached to the product when ordered.
Undamaged, unused and in the condition in which it was received.
Product & packing should not be defaced or marked in any way, shape, or form.
If you would like any further clarification about our return policy please check our footer menu.
FAST SHIPPING
We have stock of our products & we will ship it within 24 hours in secure packing.
CUSTOMER SATISFACTION
We will try our level best to satisfy you with our services as we need you to buy again from us.